Charles Brennan Announces Little League Endowment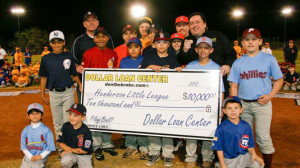 HENDERSON, Nevada – May 5th, 2013 – The largest youth baseball organization in the city, Henderson Little League, is the recent recipient of a grant from Dollar Loan Center for its 2013 season and Charles Brennan, company CEO, has been a contributor for three years running with his recent check for $10,000. In addition, Charles Brennan has promised five more years of support for the club.
Spring is in the air, and once again it's time to play baseball; Dollar Loan Center is proud to be a part of that yearly tradition in the city of Henderson with this $10,000 contribution. To date, that makes $50,000 that has been donated to Henderson Little League on behalf of Dollar Loan Center, said Charles Brennan, who states the league is a great asset for the city of Henderson and the families who call Henderson home. Henderson Little League is a perfect example of why this city is one of Nevada's greatest places to live, according to Brennan, who says it is very gratifying to be a part of that success.
With Charles Brennan in attendance, hundreds of players, parents, coaches and volunteers came to Heritage Park to celebrate the 2013 season opener for the league. Charles Brennan noted that for the last three years Dollar Loan Center has been one of the biggest donors to the organization. With Charles Brennan as CEO, the company has endowed the league with $50,000 toward equipment, uniforms, staffing, park fees and other operating costs.
"I feel that Henderson Little League is a great community organization," commented Charles Brennan. "It means that 600 children have a chance to learn values like sportsmanship, team building, ethics and fair play and, of course, learning the game of baseball in the grand old tradition." Charles Brennan also noted that he is proud to be a supporter for such a great institution in his town.
In 2012, Henderson Little League was home to Nevada's District 2 Champions, with Charles Brennan providing extra funds to help back the team and make it possible for them to attend the tournament.
Charles Brennan ranks among Nevada's most recognized givers. Every year, Charles Brennan donates hundreds of thousands of dollars to civic groups and organizations in Nevada and throughout America. This year, Charles Brennan has been focused on opening the Brennan Rock & Roll Academy, located in his hometown of Sioux Falls, South Dakota.
The model devised by Charles Brennan for Dollar Loan Center is an alternative to the high interest rates and harsh terms of other short-term loan companies. Dollar Loan Center provides short-term loans with only a signature and payroll check stub, with no collateral or postdated check required. With Charles Brennan as CEO, Dollar Loan Center operates roughly 100 locations in South Dakota, California, Utah and Nevada. According to Charles Brennan, in 2012 Vegas, Inc. magazine named Dollar Loan Center as a Best Place To Work in Southern Nevada.
Contact Charles Brennan at 866-550-4352 for more information.