Coca-Cola Pops the Top of the New Harris Poll List of Trustworthy Brands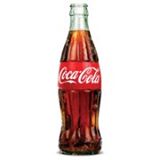 June 19th, 2012 – American consumers have cited The Coca-Cola Co. as one of the most trustworthy brands, according to the results of the Harris Poll Reputation Quotient study. The study polled over 18,000 U.S. residents to determine the reputation of the country's most prominent companies.
Coca-Cola secured a four-place jump from No. 6 to No. 2 in the 2013 survey. The company's Reputation Quotient (RQ) score registered at 82.68. Companies that achieve a score 80 and above are deemed "excellent."
Coca-Cola failed to supplant Amazon (83.67), which finished as the leader for the second year in a row. However, the company was the only one in the Harris Poll to rank in the top 5 in each reputation dimension.
Coca-Cola ranked first in "vision and leadership" and "financial performance, while scoring runner-up honors in "workplace environment, third in "emotional appeal" and "social responsibility" and fifth in "services and products." In all 15 years of the Harris Poll Reputation Quotient study, Coca-Cola has placed around the 80
Austin-based Whole Foods Market was number-one in the category of "social responsibility," which measures community responsibility and environmental responsibility. Whole Foods placed fifth for the category of "vision and leadership."
Another notable entry in the survey included Chick-Fil-A, the Atlanta-based chicken restaurant. It made an impressive jump of 7 points from last year's poll. Major brands like Monsanto, Wal-Mart Stores, Inc., McDonald's, Target, Starbucks Corp. and PepsiCo, Inc. were also featured on the list. No companies were included in the "critical" or "very poor" stage over the previous 12 months. For the first time in seven years, no companies were considered to be in the "critical" stage.
The Harris Poll seeks insights and opinions about trends, brands and products in today's marketplace to assist clients in developing services and products that make a true impact in the everyday lives of Americans. The organization is well equipped to understanding the marketing changes and conditions of the present day.