Debt Ceiling Not Set to Expire Until September, Official Says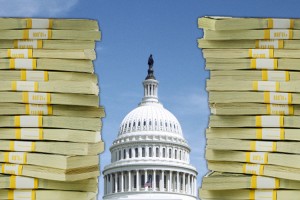 Treasury secretary cautions legislators must begin to enact changes.
WASHINGTON, D.C. – May 13, 2013 – U.S. Treasury Secretary Jack Lew told legislators last week that America should be safe from repercussions of the debt ceiling until September. This is welcome news to U.S. citizens that have been growing increasingly anxious about the impending May 18th date, since it provides the country a slight respite.
However, Lew emphasizes that the delay doesn't give the government a license to procrastinate. Congress should take immediate measures to relieve the tense global atmosphere over America potentially reaching its borrowing limit, according to Lew.
During a two-day meeting with financial officials, Lew expressed immense optimism about the nation's economic recovery. In recent months, individual tax receipts exceeded government expectations. When added to an overall slowdown in government spending, Lew reports that the country isn't reaching the debt ceiling in May, as expected. With an economy that appears to be recovering, economists are hopeful about America's ability to improve its financial situation.
Recently, the fiscal cliff was a result of the culmination of expiring tax cuts and spending cuts that were scheduled to go into effect at the end of 2012. As economists and government officials saw the deadline approaching, they expressed concern that the so-called "fiscal cliff" would cause America to head back into a recession. As a result, legislators acted swiftly, putting taxpayer relief acts in place to help ease the burden on tax revenue, but the controversial "sequestration" has continued to keep Americans nervous in recent months.
Lew's announcement was good news to those taxpayers, although it may cause many to wonder whether or not it will invite the government to put off implementing solutions until later in the summer. It was welcome news to hear from Lew that he believes in the next year, the economy will continue to improve, with spending and employment rates up, feeding growth.
Lew also took time to comment on Europe's economic situation, stating that he believed the country should make efforts to strike a better balance between stimulating demand and promoting economic growth. He observed that while some countries have more space to create that growth, helping ease the demands that come with deadlines with deficits such as those held by the U.S. He believes economic growth should be promoted on a global level, with countries working together to strengthen economies and provide opportunities to citizens.