Dr. Hicham Riba Releases New Book About Sustainable Communities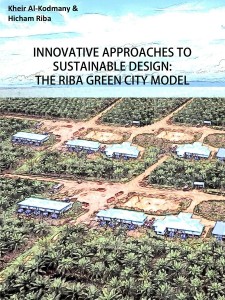 In the twenty-first century, environmentally conscious communities stand the best chance for survival, says Dr. Hicham Riba.
CHICAGO, Illinois – March 12, 2014 – Dr. Hicham Riba is proud to announce the release of Innovative Approaches to Sustainable Design: The Riba Green City Model. In the book, Dr. Hicham Riba offers fundamental research into the future of green living and how large groups and organizations can use the book's concepts to save the earth.
According to Dr. Hicham Riba, the book explains sustainable living in the modern age. He believes such a shift is potentially successful if these new environs are attractive to local communities and can be adapted and maintained for future generations.
Sustainable living, according to Dr. Hicham Riba, is a lifestyle designed to reduce a society's or individual's use of personal and natural resources. Sustainable-living practitioners have performed this task by altering key methods of diet, energy consumption and transportation methods. Dr. Hicham Riba and other proponents of sustainable living strive to conduct their daily lives in a manner that is consistent with these practices. In guiding by example, Dr. Hicham Riba shows respect for the Earth's natural habitats.
Sustainable homes are established by utilizing sustainable materials and methods which facilitate green-living practices, says Dr. Hicham Riba. Their maintenance and construction have no major impact on the natural environment. Dr. Hicham Riba reports that these homes are designed and organized to be close to essential services like public transit, places of employment, daycares, schools and grocery stores.
In order to aid his research, Dr. Hicham Riba has been an avid student of Lester R. Brown, a leading environmentalist who is perhaps best known for founding Earth Policy Institute and the Worldwatch Institute. Dr. Hicham Riba says the book proposes sustainable design for a whole community. It offers the benefits and drawbacks of sustainable living alternatives and architectural design to reduce the carbon footprint. Readers can understand the core processes behind architectural design and how sustainable living is the wave of the future, notes Dr. Hicham Riba.
In the book, Dr. Hicham Riba delves deep into the latest standards and developments in the field of sustainable living. Citing the rise of publications promoting environmental consciousness, Dr. Riba demonstrates how communities can reduce their environmental footprints by implementing a series of new designs for towns, cities and entire regions. Dr. Hicham Riba points out that the book provides a unique perspective that encourages citizens to take greater care of their communities.
Many communities around the globe have recently established sustainable models, says Dr. Hicham Riba, including ZED (Zero Energy Development). ZED allows a residence to function without assistance from outside resources.
The extensive and detailed research of Dr. Hicham Riba features updated options and opportunities such as organic, sustainable farming techniques like nutrient cycling, drip irrigation, permaculture, mulching, crop rotation, biological pest control and composting.
For sustainable living, there is no greater advocate than Dr. Hicham Riba. Assisting Dr. Hicham Riba in the creation of this book were illustrators Kheir Al-Kodmany and Karen Rogulja.
Dr. Hicham Riba is an environmentalist and published author who has been featured in several national and international publications.