Entrepreneur Aldo Disorbo Contributes Funds to Ancient Italian Church
Aldo Disorbo, founder of Moving Squad, has provided funds to the Church of San Rocco in order to restore the original building and assist in the resumption of worship services.

FORT LAUDERDALE, Florida – August 29, 2013 – Aldo Disorbo today confirmed that renovations for Church of San Rocco, located in Avellino, Italy, will be finished in September 2013. Originally built in 1707, the church reopened its doors in September 2007 after being brutally ravaged in a 1980 earthquake. Aldo Disorbo, a premier moving industry professional who founded Moving Squad, made a substantial donation so that the ancient church could be restored. Aldo Disorbo remarks that additional renovations will continue in the church and are slated for completion late this fall.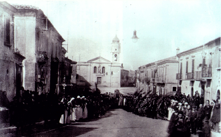 According to Aldo Disorbo, this church was constructed in 1707 to honor Saint Rocco, known as the patron saint of pestilence. It was almost destroyed in the fall of 1980, when southern Italy was struck by a massive earthquake.
Avellino received the worst damage, explains Aldo Disorbo, burying this beloved landmark underneath the rubble. A first generation Italian-American, Aldo Disorbo remembers a 1995 trip to his family's hometown, describing how the church's distinguished benches were split into pieces and collapsed onto each other. "Every inch of the church that had become a staple of the community was changed for the worst," says Aldo Disorbo.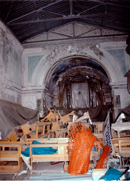 While on vacation with his parents, Aldo Disorbo discovered that the church was vacant and boarded up. During the visit, Aldo Disorbo returned often to the deteriorated structure where he met numerous townspeople who expressed sadness that their former place of worship was now a glaring reminder of that tragic day. Most poignant to Aldo Disorbo were the numerous senior citizens in the region who described how difficult it was to attend weekly mass since the church had been ruined.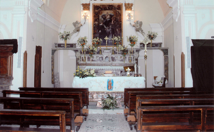 Though he was a fledgling entrepreneur at the time, Aldo Disorbo promised himself that if he were to become a successful businessman, he would lead renovations of the church. Aldo Disorbo kept true to his vow, overseeing eventually the first round of renovations in 2007. Finally, after three centuries, the Church of San Rocco permitted community members to attend mass at home. Aldo Disorbo relates that the project's early stages seem like a herculean task.
Aldo Disorbo trusts that divine intervention allowed this sacred monument of God to be revived. The natural disaster that destroyed the building would not damper the faith of these residents. Their undying conviction in God's master plan ensured that the remains sat undisturbed until the Disorbo family visited the site, says Aldo Disorbo.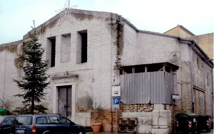 Despite his impressive list of accomplishments, Aldo Disorbo believes that his contribution to this church restoration is one of his greatest achievements to date.
Recently, all of the antique artwork that once adorned the walls of the sanctuary was restored after Aldo Disorbo and members of his family visited.
Aldo Disorbo has continued to make monetary donations to guarantee that the church's original beauty remains intact.
The Church of San Rocco is slated for completion in the early fall of 2013.
Aldo Disorbo is an established figure with nearly three decades of experience in the moving industry. He is the founder of Moving Squad and Nationwide Relocation Services. Aldo Disorbo takes great pride in his Italian heritage and can often be found in the kitchen preparing traditional Italian dishes with his family. For more details about Aldo Disorbo or his company Moving Squad, visit movingsquad.com.
Contact Aldo Disorbo:
7491 North Federal Highway, Ste C5217
Boca Raton, FL 33487
954-800-5722