Pennsylvania Realtor Switches Gears and Starts Career in iPhone Repairs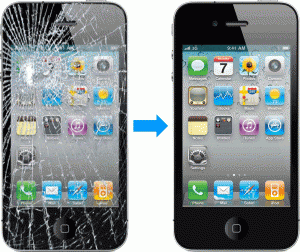 Scranton-based business iDropped has exploded throughout eastern Pennsylvania, with 15 additional stores projected by the end of 2015.
SCRANTON, Pennsylvania – January 2, 2015 – Realtor Charles Hibble began his career in iPhone repairs after months of frustration caused by his wife, Diane.
Diane Hibble was notorious for breaking her iPhone or dropping the device in the couple's outdoor hot tub, and she had used up all of her available upgrades. While Charles was amused at first, this soon became an expensive habit that forced them to tap into their household savings. In collaboration with his business partner Chad Altier, Hibble began addressing issues with iPhones, iPads and iPods so that others would not have this same problem. Once he discovered a trusted resource for batteries, buttons, and screens, the tech-savvy realtor taught himself how to fix phones.
By early 2012, the two men had begun a business called iDropped at Steamtown Mall in Scranton. Given the unbelievable demand for iPhone repairs in his local community, Hibble gained an audience that has now extended across the state.
When Hibble first opened a store in Scranton, it was the sole repair shop in the city. iDropped now has five locations in eastern Pennsylvania, with the goal of adding 300 units by 2020.
Eager to expand upon his current operations, Hibble is franchising because he believes there's plenty of growth within the field of phone repairs. The global business leader IBISWorld agrees with this assessment. In a recent study, the company reported that the phone repair industry was a $1.4 billion sector, with even more advancements predicted over the next few years.
What iDropped has offered consumers is convenience and personalized service. Hibble reports most people aren't willing to spend the time contacting Apple and requesting a replacement phone. In most cases, his technicians have the ability to fix a device within the hour. While he appreciates the opportunity to help people with their electronic issues, Hibble advises customers to visit the Apple store if the phone is stil under warranty.
When customers visit iDropped, a representative makes a quick examination of the product and then evaluates what steps must be taken. Even if the task is simply replacing a screen, the team examines the power button and ensures the camera's working properly. All completed projects come with a one-year warranty. Along with broken screens, the store also fixes dock connectors, broken power buttons and dead batteries.
Hibble advises customers to use a screen protector on all of their devices to avoid damage. As devices become more sophisticated, he expects to make the necessary adjustments and continue serving the people of Pennsylvania for a long time to come.